Welcome to The Annunciation Press
Our website features many of our most popular icons and our icon-related products. We have many icons not shown here, so if you don't see one you're looking for, email and ask if we have it available for special order.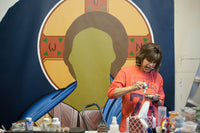 Custom Orders
Erin accepts commissions for churches as well as for personal prayer. Each icon, whether a gold-leafed panel or fresco-style canvas is painted in a traditional Byzantine style.
Custom Order Contact